"I never truly believed her, she was young and prone to flights of fantasy. It wasn't until I heard them, great gusts of air and steam droning in the distance, then i saw them, these flying men of Moriarty. We were not prepared for the arial attack.
They first dropped the bombs and then cut through our ranks with their swords and motorised saws. I watched in horror as the people I fought with was engulfed in flames from their infernal weapons. It was a horrific slaughter and we barely escaped with our lives."
Extract from the diary of Rose, Grant daughter of Holmes.
Desktopwargames.com proudly present the arial combat figure set for its critically acclaimed "Gods of Steam" Steampunk army figures.
You can now add speed and range to your attacks.
Hundreds of of unique figures combinations possible. 6 Colours, 8 weapons, 6 figures + 6 inverse amounts to almost 350 unique combinations.
Below is just some of the combinations for just one figure… there is 5 more to configure.
28mm to 30mm tabletop wargaming steampunk figures. Build a complete arial army out of just one download.
You can configure the weapon choices of each character, please note that some characters have limited options due to the position of their hands or pose.
The weapons are:
1. Sniper rifle
2. Heavy machine gun
3. Grenade (one figure only)
4. Chainsaw (when all else fails…)
5. Sword gun
6. Knife gun
7. Flame thrower
8. Long barrel gun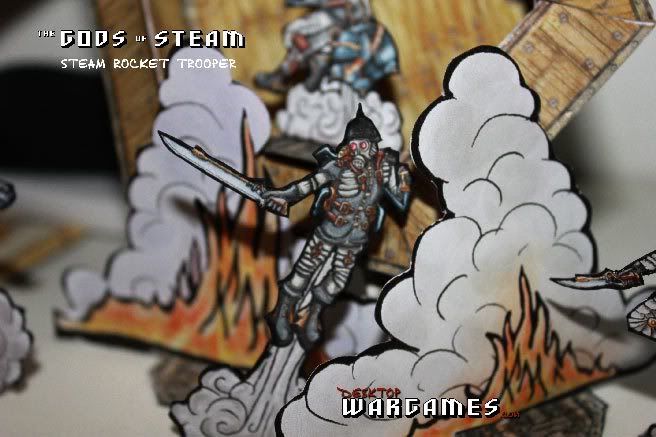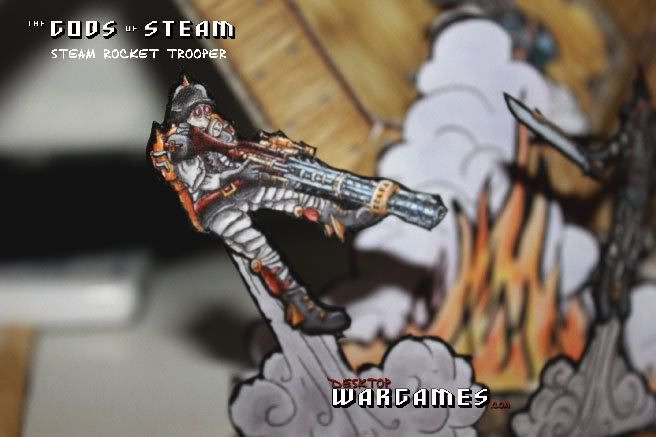 How to use the PDF:
Buy the PDF 😉
Download it
Pop some good quality paper in your printer
Print PDF on good quality setting and the "scale to fit" A4 setting turned on OR scale as needed for the size you want. Scale to fit will print 25-30mm.
Glue, cut and play
Also try our Shock Troopers, Build a complete army. You ahve the ability to create specialized units permitted by this single set, Officers, heavy weapons squads, infantry squads, specialist squads, close combat squads.